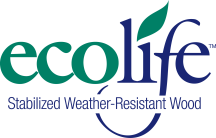 Advanced Preservative Plus Wood Stabilizer Protection
Ecolife™ is protected with a non-metallic preservative plus a wood stabilizer system, offering the natural beauty of real wood combined with advances in dimensional stability, weathering protection, fastener performance, and environmental attributes. EcoLife is used for above ground applications, not for direct ground contact.
The Ecolife Stabilized Weather-Resistant Wood preservative formulation is a Green Approved Product by the NAHB Research Center and complies with specific green practice criteria in the National Green Building Standard. See the Ecolife product listing on www.GreenApprovedProducts.com for more information. Download NAHB Certificate Here (PDF).
Building Code Compliant
Ecolife Stabilized Weather Resistant Wood has been standardized by The American Wood Protection Association (AWPA) for above-ground contact applications
Ecolife is described in the ICC ESR-1851 and meets all applicable major model building code requirements
Fasteners and Aluminum Contact
Ecolife Stabilized Weather Resistant Wood is no more corrosive to fasteners and metal fittings than untreated wood.
Ecolife can be used in direct contact with aluminum building products, even in constantly wet applications.
Use of fasteners and contact with aluminum products is permissible in compliance with applicable building codes and fastener manufacturer's recommendations.